Taemin


Stage Name
Taemin
Band Name
SHINee
Position
Main Dancer, Vocalist
Also Known As
"Dancing Machine" Taemin
Specialties
Piano
Status
Active
Taemin


Birth Name

Lee Taemin

Date of Birth
July 18, 1993
Education
Blood Type
B
Height

179cm

Weight

53kg
Lee Taemin is a South Korean idol, dancer, singer, actor, promotional model, and radio host. He is a member of a South Korean boy band, SHINee, as the maknae, main dancer, and vocalist.
Discovered
Edit
Taemin was discovered at the 2005 S.M Open Weekend Audition Casting where he picked his talent as dancing. His [audition]can be found, english subbed, on youtube.
Taemin debuted in SHINee at a very young age, 14 internationally and 15 by Korean standards. His young age and youthful appearance caused him to be the topic of several variety shows.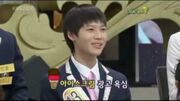 Because of his young age, Taemin was rather shy and only spoke when asked. His shyness eventually left him, yet speaking comfortably took some time. Even to this day, whenever Taemin talks to big crowds he is seen to grasp onto his trousers or other members for support. Or is seen to place his hand over his raging heart and letting out a deep breath after he is finished. 
Replay (Noona Neomu Yeppeo)
Edit
Taemin's parts in Replay were short, mainly cuts of him and the 'noona' yet his vocal cuts were limited. Taemin was struggling with his vocals as he was midway through puberty and his voice wasn't fully developed for long or high notes. Dance wise, Taemin is nearly always in the center of their formation as he is the main dancer of the group.
Television/Acting
Edit
Voice Acting
Edit
In December 2011, Taemin took a voice acting part in the Korean animated movie named The Outback. He voiced the main character, Johnny, a white koala turned hero. He worked along side labelmate, Sunny, from Girls' Generation.
Solo Albums
Edit
He released his first solo mini album, ACE, August 18, 2014. The music video for the title track, Ace of ACE, was released August 13, 2014. Soon followed by the release of the Medley and Danger.
Musicals
Edit
He doesn't like his hands because he thinks they're too small.
Ad blocker interference detected!
Wikia is a free-to-use site that makes money from advertising. We have a modified experience for viewers using ad blockers

Wikia is not accessible if you've made further modifications. Remove the custom ad blocker rule(s) and the page will load as expected.