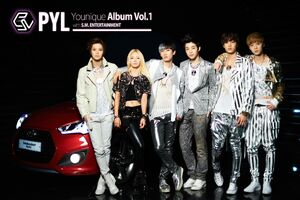 Eunhyuk (Super Junior)
Hyoyeon (Girls' Generation)
Henry (Super Junior-M)
Luhan (EXO-M)
Kai (EXO-K)
On October 16, 2012, a new special group called Younique Unit was formed. Based off of a collaboration between S.M. Entertainment and Hyundai. Lay, from EXO-M, was supposed to be in the group. But due to a previous injury, Luhan took his place.
On October 27, 2012, S.M. released the teaser for Maxstep. They later released the full music video on October 31, 2012.
So far only one single has been released for the group. Their album, PYL Younique Volume 1, has a total of three previously released digital singles.
Ad blocker interference detected!
Wikia is a free-to-use site that makes money from advertising. We have a modified experience for viewers using ad blockers

Wikia is not accessible if you've made further modifications. Remove the custom ad blocker rule(s) and the page will load as expected.