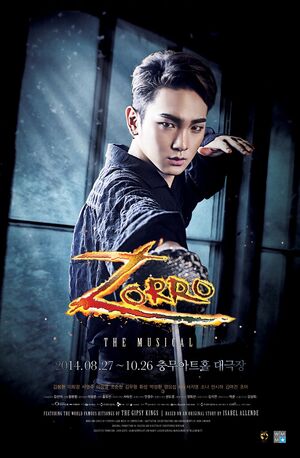 Key plays as the lead character, Zorro.
Zorro - Key, Yang Yo Seob
Diego - Kim Woo Hyung, Whee Sung
Inez - Suh Ji Young, So Nya
Luisa - Ahn Si Ha, Kim Yeo Jin
Ramon - Cho Sun Chang, Park Sung Hwan
Garcia - Seo Young Joo, Lee Jeong Yeol
Don Alejandro - Kim Bong Hwan, Lee Hee Jung
Ad blocker interference detected!
Wikia is a free-to-use site that makes money from advertising. We have a modified experience for viewers using ad blockers

Wikia is not accessible if you've made further modifications. Remove the custom ad blocker rule(s) and the page will load as expected.